BROOKLYN BLOGFEST 2011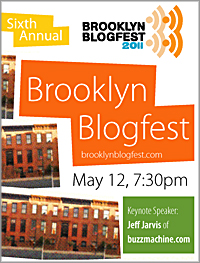 I want to thank everyone who came out to the Brooklyn Blogfest last night. I really had a great time and I hope you did, too.
Much gratitude and appreciation goes to The Bell House. What an awesome venue, what a class act through and through. When I walked in at 4:30, the chairs were set up, the sound/viceo technician was good to go, and a lovely man named Kieran was there to facilitate whatever needed to be done. The woman at the box office was super great as were the bartenders and EVERYONE I came in contact with.
The Bell House is a special events producer's DREAM COME TRUE. I can't rave enough. I think they probably got sick of hearing me gush.
I must also thank Jeff Jarvis, our keynote speaker, who shared some very smart, interesting and thought provoking ideas about new business models for bloggers and journalists. We were lucky to have him. As one blogger said, "What a good grab."
Thanks also to Max Robins, all the Blogs of a Feather facilitators, all the photographers in The Big Picture Video (which should be on You Tube today), all the volunteers, Atiba Edwards, Mike Sorgatz, Elizabeth Palmer, Adrian Kinloch, Gabriela Herman, Larry & Melissa Lopata, Sharrie Sutton, Lesley w, Marion Hart and Hugh Crawford, Charlotte Maier, Nancy Graham and everyone who came out.
A final note of thanks to Oaxaca, who brought deliriously delicious tacos to sell at the event. If you don't know the restaurant, it's on Fourth Avenue between President and Carroll Street in Park Slope. The tacos, a choice of chicken, pork or potato (or all three as I had), were awesome. Their catering business (led by Jake) is top notch and dependable.
I'm trying to compile a list of everyone who was there so if you were at The Bell House last night please send me an email louise_crawford(at)yahoo.com or a message on Facebook (friend me if we're not friends).
Each year Blogfest has a different feeling, a different vibe. This year there was a palpable sense of comradaerie and community. It felt celebratory and fun.
I hope it inspired you in some way. I'm so happy you were there.
Now We Are Six by AA Milne
When I was One,
I had just begun.
When I was Two,
I was nearly new.
When I was Three
I was hardly me.
When I was Four,
I was not much more.
When I was Five,
I was just alive.
But now I am Six,
I'm as clever as clever,
So I think I'll be six now for ever and ever.
Best, Louise
BELOW IS WHAT WENT ON AT BLOGFEST:
"Where better to take the pulse of this rapidly growing community of writers, thinkers and observers than the Brooklyn Blogfest?" ~ Sewell Chan, The New York Times
Since it was founded in 2006, the Brooklyn Blogfest has established itself as the nexus of creativity, talent, and insight among the blogosphere's brightest lights. This year will be no different as Blogfest presents keynote speaker, Jeff Jarvis, author of What Would Google Do? Jarvis blogs about media and news at Buzzmachine and is director of the interactive journalism program and the new business models for news project at CUNY's Graduate School of Journalism.
Jarvis' must-see presentation, Will Blog for Food (or You Can Make Money Doing This!), will focus on new business models for bloggers!
Just announced: An Opening Video by acclaimed photographer Gabriela Herman will open Blogfest 2011. Herman is a Brooklyn-based photographer, who is gaining a reputation for her portraits of bloggers in the glow of their computer screens while they write. "Something about the alchemy of isolation and connection stares right back at us from her arresting images."
Blogfest is for bloggers, social networkers, journalists and entrepreneurs. Whether you live by a blog, live to blog, blog to live (or are thinking of starting a blog) you'll want to join us on May 12th.
Also on tap: An opening video by acclaimed photographer Gabriella Herman; a video tribute to Brooklyn's most visionary photo bloggers (by Adrian Kinloch of Brit in Brooklyn), Blogs Aloud (directed by Elizabeth Palmer of Midnight Cowgirls); special networking sessions for like-minded bloggers (i.e. Blogs of a Feather), the ever-popular Shout-out, when bloggers are invited to share their blogs with the world, and a roof-raising after-party with a cash bar, food and music!