The Blogfest 2011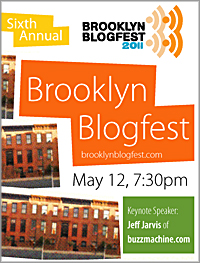 HERE'S A ROUGH IDEA OF WHAT TO EXPECT AT BLOGFEST 2011

The Brooklyn Blogfest is an annual gathering of bloggers, social networkers, creative entrepreneurs and journalists. Typically 300 people show up to be part of this fun event which has a formal presentation (with guest speakers, a video tribute to photo-bloggers, a dramatic reading from blogs) followed by break-out groups for networking and a festive after-party with a cash bar and tasty snacks.
Get your tickets in advance at The Bell House (you don't want to be turned away at the door if we've reached capacity). For more information or interviews please call Louise Crawford 718-288-4290.
--DOORS OPEN AT THE BELL HOUSE AT 7PM!
--PROGRAM BEGINS AT 7:30PM

--Just announced: A VIDEO by acclaimed photographer GABRIELA HERMAN will open Blogfest 2011. Herman is a Brooklyn-based photographer, who is gaining a reputation for her portraits of bloggers in the glow of their computer screens while they write.
--BLOGS ALOUD (Actors read excerpts from blogs directed by Elizabeth Palmer of Midnight Cowgirls).
--KEYNOTE SPEAKER: JEFF JARVIS OF BUZZ MACHINE
--VIDEO TRIBUTE TO PHOTO BLOGGERS by Adrian Kinloch of Brit in Brooklyn.
--SHOUT-OUT
--INTRO TO BLOGS OF A FEATHER by Atiba Edwards of Visual Stenographers
--BLOGS OF A FEATHER: Networking in small groups: 30 minutes leading up to party...
--AFTER-PARTY AND CASH BAR (networking and socializing)!
GO HERE TO SEE A VIDEO OF BLOGFEST 2010 BY LESLIE TOPPING